Seer Varisai Plates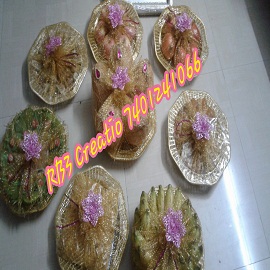 Every Traditional Functions would involve the exchange of gifts from both the bride and the groom's side. These gifts are a token of love and appreciation from each other and it is often seen as a sacred ritual in all Indian Traditional Functions. Seer has become indispensable in every Functions and it would be hard to find a Functions which does not employ the concept of seer.
At RB3 Creations, we specialize in Nichayathartham, Engagement, Wedding, Kalyana Seer Varisai Thattu, Valaikappu, Addi Seer, Ear wearing Functions seer varisai plates / Varisai Thattu. Our deep-rooted experience in Event planning has equipped us with practical knowledge in procuring seer varisai Items for Nichayathartham, Engagement, Wedding, Kalyana Seer Thattu, Valaikappu, Addi Seer, Ear wearing Functions, the seer varisai thattu items and packing them in unique ways that will keep your guests talking for a very long time of Sweet Memories.
Arathi Plates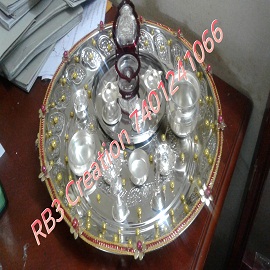 The family of the bride welcomes the groom and his family by performing Aarthi at the entrance of the Functions venue. Aarthi is a sacred Hindu ritual and is performed during a Functions mainly to remove the negative vibes sent by other people on seeing the bride.
Aarthi is also performed to objects such as vehicles, machines because it is believed that it helps the object as well as the owner to become prosperous. It is replica watches also waved before worshippers and devotees to symbolize that man also has a small part of divine element within him.
Mehanthi
Mehendi is one of the important pre-wedding rituals followed in many parts of India. It holds significance, primarily in the northern parts of the country, where henna is considered auspicious for festive occasions. While mehendi is an indispensable part of the pre-marriage celebrations of Hindu and Muslim weddings, people following other religions have also adopted it, with the changing times.
the mehendi party should bring together all the right ingredients that allow the bride to relax a bit, so that she lets go her pre-wedding anxieties and enjoys a pleasant time with her family, friends and close relatives.
Bangles & Gift Items
People generally give sweet boxes to the close friends and relatives present in the marriage, but with few close relatives, one needs to extend their budget. Also, in case of the inter- family wedding gifts of the bride and the groom, the bride's family is supposed to gift the close relatives of the bride with jewellery or clothes. The worth of the gift depends on the closeness the person has in terms of their relation with the groom's family.
These gifts are given as a token of respect and happiness We are specialized in Indian Wedding Return Gifts in an Eco manner.
Maalai
The Wedding Flowers play an integral part in any wedding, used for both decoration and for tradition. Were we offers variety of flowers of different size, colors and types.
Our floral decorators can give you various themes that go from exotic hothouse flowers to traditional Lotus-in-Urli settings.
Catering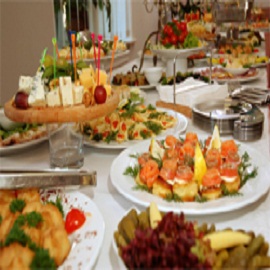 RB3 Creation will assist you in your wedding preparations by selecting a suitable wedding caterer for your special occasion. We have tie -ups with premium and exclusive wedding caterers who would provide top quality cuisines at your wedding function.